Pratham UK is an equal opportunities employer that actively promotes diversity and
strongly encourages applications from within Black, Asian and Minority Ethnic communities
and under-represented groups.
About Pratham
Pratham is an incredible organisation. It is one of the largest education NGOs in India but
not well known outside India. In the words of Nobel Laureate Abhijit Banerjee, "Pratham's
impact on the lives of millions of kids has been tremendous; it is quite simply an
exceptional, best-in-class organisation that has managed to scale across India." We have
won many prizes, including the Kravis Prize, the Skoll Award, the WISE Prize and the LUI Che
Woo Prize; most recently, our CEO in India won the Yidan Prize for Education, the world's
most prestigious education prize.
We conduct high-quality, low-cost and replicable interventions to address gaps in the
education system. Our best-known programme, Teaching at the Right Level (TaRL), teaches
basic literacy and numeracy in as little as 30 days for £14 per student. We offer this in
10,000 villages in 21 states in India. The World Bank has recognised this model as an
important method to make up for lost learning due to the pandemic. Pre-pandemic we
reached 500,000 children in India each year with fundraised income and a further 5,000,000
children through partnerships with state governments.
We also offer an Early Childhood Development programme focusing on school readiness.
Our Second Chance programme supports women back to school to complete their class ten
exams, the gateway into the formal economy. Our vocational training programme is
exceptional and has helped 100,000 young people into the formal economy in 10 years. We
were at the forefront of non-profit EdTech before the pandemic and it is now central to
many of our programmes. Through our arms-length partner, the ASER Centre we run the
ASER survey, one of the largest annual educational surveys in the world that has moved the
educational policy debate in India from inputs to learning outcomes.
The Pratham Education Foundation raises around $20m in India each year. Pratham USA
raises an additional $25m, predominantly from major donors. In the UK, we have historically
raised around £500k a year, largely from a high-end gala, in 2021/2 we raised £1.2m, we will
be close to £1.5 in 2022/3 and are well-placed for significant future growth.
Pratham UK
Pratham UK is a purely fundraising organisation with all programmes managed by our Indian
colleagues however, we work closely with them and they are always ready to join donor
calls etc. We are beginning to integrate further with Pratham USA and can draw on their
resources and support including a much larger comms, events and IT teams. Our trustee
board, which is incredibly well-connected, has big ambitions for the organisation, and we
are now building out the UK fundraising team.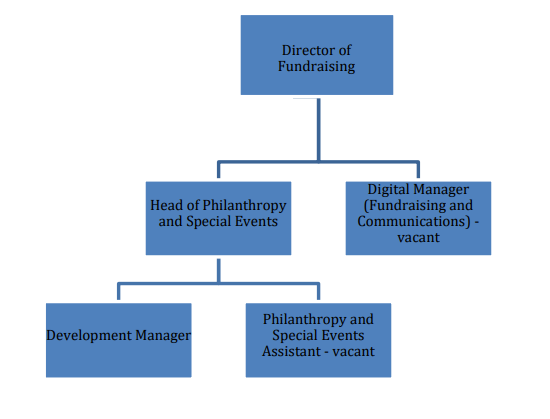 The Role
Events are central to how Pratham UK raises money to support children to learn in India.
Each autumn we host a high-end gala. Last year's gala at the Dorchester Hotel raised almost
£650k, with other philanthropy raising a further £200k. We have a calendar of smaller
events throughout the year that are used as opportunities to engage prospective supporters
and thank our existing supporters.
To deliver our fundraising targets and implement the best possible fundraising practices in
our philanthropy and special events team, we need a dynamic and organised assistant to
join our team and support us in planning and executing these events and supporting our
wider philanthropy team needs. The successful candidate will have strong communication
and interpersonal skills, and be able to work effectively in an international environment.
This role may suit a fundraiser or an events person early in their career or anyone else who
is keen to start a career in the charity events sector.
Key Responsibilities:
Support the team in delivering a variety of events ranging from 20 to 400 guests
Coordinate the events and philanthropy administrative tasks for the team such as guest
management, volunteer coordination, production of promotional and fundraising materials,
set up and tear down of events, writing minutes of various meetings, drafting and sending
invitations and thank you letters, etc.
Ensure supplier and supporter documentation, including donor database, is kept accurate
and up to date
Prepare donor data for large scale communications, financial processes and importing to
database, ensuring high quality and accurate data
Support the team with admin tasks related to mid-level and major donor giving programmes
(Pratham Patrons and Young Professionals)
Work closely with all Pratham UK team members and the events team at Pratham USA
Required Skills
Strong organisational skills and attention to detail
Passion for learning
A self-starter, proactive, with drive and commitment
Excellent communication and interpersonal skills
Ability to work well under pressure and meet tight deadlines
Proficiency in Microsoft Office
How to apply
To apply please send your CV and if you wish a short note highlighting key skills and why you
want to work for Pratham UK to jo[email protected] by 1st March 2023.
If you wish to speak to the hiring manager Tijana Milosevic, Head of Philanthropy and
Special Events, then please email [email protected] to arrange a time. Tijana is
available for email and phone communication until 19th February and only for email
communication from 19th February until 1st March.
Interviews will be held on 6th and 7th March.