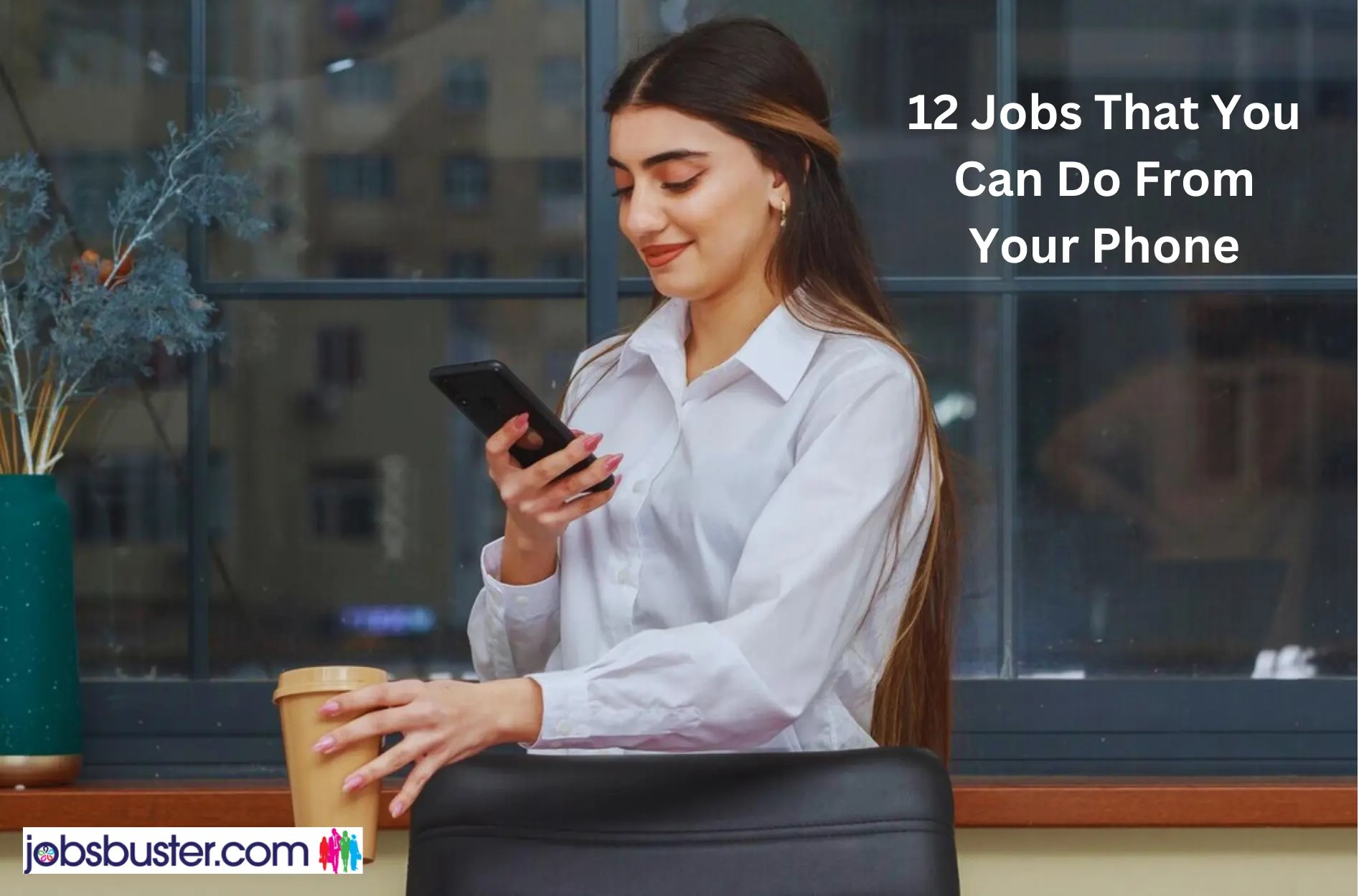 In today's digital age, the possibilities for remote work are virtually limitless. With the rise of smartphones and high-speed internet, the concept of "office" has been redefined. Now, you can find numerous job opportunities that allow you to work directly from the palm of your hand. Whether you're looking for extra income, a flexible schedule, or the freedom to work from anywhere, these 12 jobs could be the perfect fit for you.
1. Freelance Writing:
If you have a way with words and a passion for writing, freelance writing is a fantastic option. Content creation, copywriting, blogging, and article writing are just a few of the avenues you can explore. There are several online platforms that connect freelance writers with clients seeking quality content. With your phone as your tool, you can write, edit, and communicate with clients on the go.
2. Virtual Assistance:
Virtual assistants provide administrative support to businesses and entrepreneurs remotely. Tasks may include managing emails, scheduling appointments, conducting research, and more. With communication tools and task management apps readily available on your phone, you can efficiently organize and execute tasks for your clients.
3. Online Tutoring:
If you're knowledgeable in a particular subject, online tutoring is a rewarding way to share your expertise. Many platforms allow you to connect with students seeking help, and you can conduct sessions through video calls or chat. This job not only helps students but also provides you with a flexible source of income.
4. Social Media Management:
Businesses understand the importance of a strong social media presence, but managing multiple platforms can be time-consuming. As a social media manager, you can create content, schedule posts, engage with followers, and analyze results – all from your phone. Apps like Buffer and Hootsuite make this job more manageable.
5. Graphic Design:
If you're creatively inclined and have graphic design skills, you can create logos, social media graphics, and other visual content for clients. There are several design apps available for smartphones that allow you to craft stunning visuals on the go. This job offers artistic fulfillment and income generation, all from the convenience of your phone.
6. Stock Photography:
Do you have a knack for photography? You can sell your photos on stock photography websites directly from your phone. Many websites allow you to upload and manage your portfolio using their mobile apps. This can be a passive income stream as your photos are purchased by individuals and businesses for various purposes.
7. Language Translation:
If you're fluent in multiple languages, consider becoming an online translator. There's a growing demand for translating documents, websites, and content to reach a global audience. Several translation platforms offer mobile apps, enabling you to translate and communicate with clients easily.
8. Content Curation:
Curating content involves finding and sharing relevant articles, videos, and resources on specific topics. Businesses and individuals value curated content to establish authority and engage their audience. You can use your phone to discover and share valuable content through social media or newsletters.
9. Remote Consulting:
If you're an expert in your field, you can offer remote consulting services through phone calls or video chats. Whether you're a business consultant, fitness trainer, or life coach, your knowledge can be shared and monetized from the comfort of your phone.
10. E-commerce:
Running an online store is easier than ever with e-commerce platforms and apps. You can manage products, track orders, and communicate with customers using your smartphone. From dropshipping to selling handmade crafts, the options are diverse.
11. App Development:
Ironically, you can even create jobs from your phone through app development. If you have coding skills, you can design and develop apps for various purposes. With the right tools, you can code, test, and refine your apps using your mobile device.
12. Affiliate Marketing:
Affiliate marketing involves promoting products or services and earning a commission for each sale made through your unique affiliate link. You can curate content, write reviews, and share recommendations through your phone to attract potential buyers.
Read Also: How to Create an Impressive CV & Cover Letter
In conclusion, the digital revolution has paved the way for a wide range of jobs that you can efficiently carry out from your smartphone. Whether you're a creative, a communicator, an expert, or an entrepreneur, there's a job suited to your skills and preferences. These 12 options are just the beginning – explore the vast landscape of remote work and find the perfect opportunity to earn, learn, and grow, all from the convenience of your pocket-sized device.
Posted in: Candidates
Tags: affiliate marketing , app development , blogging , content curation , digital careers , dropshipping , e-commerce , freelance writing , graphic design , language translation , microtasking , mobile-based employment , online consulting , online tutoring , remote jobs , smartphone jobs , social media management , stock photography , virtual assistant , work from home