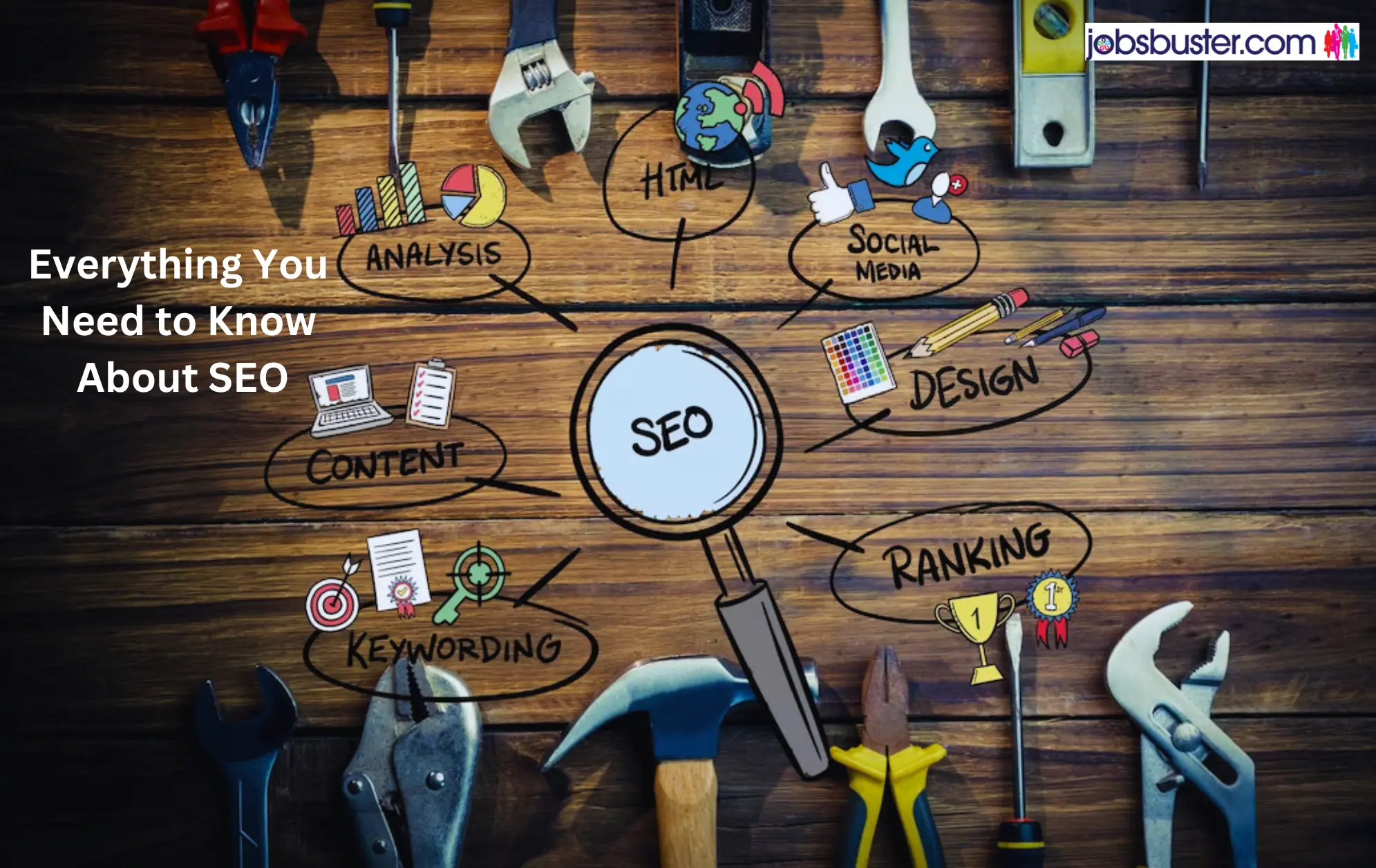 SEO is the main reason for you to find out whatever you are looking for when you turn your trust towards Google for a step-by-step guide on how to learn to play Iron Man on your guitar.
It's a bitter pill to swallow but without some presence on Google, businesses will face a digital uphill battle. Most marketers have made peace with the importance of SEO, and it's one of the strategies marketers are investing in most this year.
So, if you are a business enthusiast or a marketer for a business enthusiast, read this article and learn what SEO is, how to come up with a strategy to build an online presence, and the right steps to position a site in search engine results.
Let's begin by addressing the elephant in the room and that is What is SEO?
What is SEO?
The full form of SEO is search engine optimization. If there was an origin story to SEO, it would narrate how SEO was born to help companies improve their visibility in organic search results. And how in return, it would entice more visitors to the company's website, bringing more conversions, more customers, and more revenue. If one must explain to the layman about SEO, it is a strategy that ensures that your product is standing tall amongst all products when someone Googles a product.
There is a plethora of time-tested methods to improve the SEO of your site pages. The search engine with its sharp eyes is always looking for elements like keywords, internal link structure, image tags, title tags, and inbound links (also referred to as backlinks). Search engines also have a soft corner for site structure and design, visitor behavior, and various other external off-site factors to decide how highly ranked your site must be in its SERPS.
Keeping in mind all of the above-mentioned factors, SEO primarily impacts two things — rankings and visibility.
Another rule that is written in stone is that search engine optimization focuses entirely on organic search results and that does not include pay-per-click optimization. SEO and pay-per-click become part of the larger picture, i.e, Search Engine Marketing
Before you dive deeper, let's mutually agree to the fact that SEO seems complex, and that too to an extent that you can possibly send shivers down your spine. However, this article is curated to soothe your nerves. We will be breaking down SEO into its most basic parts and teach you how to make the best out of all its elements and give birth to a successful SEO strategy.
Types of SEO:
Let's begin with getting you well-versed in the SEO lingo that will help you navigate the world of SEO.
As you spend more time digging into SEO, you will be introduced to some common terms that will try and categorize its various approaches or aspects, like:
On-page SEO, off-page SEO & technical SEO
Black Hat SEO & white hat SEO
Even though they are not important from a practical standpoint, it is always good to know the definition of one more term.
the above-mentioned terms differentiate the SEO activities depending on whether you perform them on the website
On-page SEO:
It is everything that can be done on the website – content optimization through various aspects
Page performance optimization
Title tag optimization
Keyword research
Internal linking
Content optimisation
The idea is to provide both accurate content and user experience while informing search engines what the page is about.
Off-page SEO:
It is mostly about getting quality backlinks to assure search engines that the website has authority and value. Link building can involve techniques like:
Guest Blogging
Email Outreach
Broken Link Building
Profile submissions
image submission
pdf & Directory submissions
Off-page SEO is also closely associated with other facets of online marketing, namely social media marketing, and branding, which is responsible for the indirect impact that creates the trust and authority of the website.
Technical SEO:
Technical SEO is like the behind-the-scenes wizardry that makes a website perform well in search engine results. It's all about making sure the website is not just good-looking but also super-efficient when it comes to search engines like Google. It includes:
Website Speed Optimization
Mobile-Friendliness
Structured Data Markup
Canonicalization
Site Navigation and Structure
XML Sitemaps
Always keep in mind that a successful SEO strategy is about marrying on-page ,off-page  & Technical SEO activities
White hat SEO vs. black hat SEO
The definition of the term is not that different from how it is described in Western movies. It's about good guys and bad guys.
In the world of SEO, these terms are the identity of two groups – those who live by the rules set out by Google's Webmaster Guidelines and those who are anti-establishment
Black Hat SEO Activities:
Keyword stuffing
Link manipulation
Irrelevant backlinks
Comment spam
Cloaking and sneaky redirects
PBN/ link farms
Hidden text
White Hat SEO Activities:
Natural links
Brand Building
Keyword Research
Content Strategy
Focus on Quality
On-page optimization
Elaborately written content
How SEO works:
SEO justifies its salary by optimizing a website's content, steering keyword research, and earning inbound links to improve the ranking of the content and improve the website's visibility. One can see results take effect on the SERP once the webpage is crawled over and indexed by a search engine. SEO efforts usually take months to bear fruits.
Rankings
This is how a search engine determines the worthiness of a web page in the SERP. Rankings begin at position zero through the final number of search engine results for the search, and a web page may rank for one position at a given time. With passing time, the ranking of a web page sees ups and downs due to age, competition in the SERP, or a change in algorithm by the search engine itself.
Visibility
This term defines how prominent a particular domain is in the search engine results. Lower search visibility is the outcome of the domain not being available for a lot of relevant queries whereas, in the case of a website being a fan favorite, the opposite is a fact.
Now let's understand the most important aspect of SEO, and that is search engine working.
How does Search Engines Work:
The method By which search engines work consists of three steps:
Crawling
Indexing
Picking the results
Before giving the user the results that they have been looking for….
Crawling
Crawling is the act of search engines scanning all the internet webpages continuously. With the assistance of minions (namely crawlers or bots), they follow all the hyperlinks and find new pages.
Indexing
Once crawling is done, we start walking, and by walking we mean, the information gets indexed. The search engine flexes its muscles to analyze and understand the pages, systematically categorize them, and hold them together in the index.
The search engine index is nothing but an exquisite library filled with all the crawled websites serving one single purpose – to figure them out and ready them as search results.
Producing the results
Once someone presents itself to know if Samsung is better or iPhone Is better, the search engine gets to work digging deep into the index and comes out with the best results.
To bring the best out of SEO, it is highly advised that you understand SEO tools.
SEO tools offer a plethora of data and insights that need to be considered as The Holy Grail. They not only offer a competitive edge but protect you from the sands of the hourglass
Below mentioned are some of the SEO tools everyone should use:
A backlink analysis tool (Ahrefs)
A keyword research tool (Google Keyword Planner)
A traffic analysis tool (Google Analytics)
A rank tracker (SERPWatcher)
Google Search Console
An Art of Keyword Research
As an SEO aficionado, the success of all your campaigns will depend on two words, and those words are Keyword Research
It is the most important step that has to be taken in the SEO journey. It is crucial  in two usual scenarios:
Figuring out the Niche – When laying your hands on a new website, keyword research can offer excellent insights as to which sub-topics catch the attention of people in the respective niche and industry
Figuring out new content ideas – Keyword research helps in mindfully handpicking the most profitable keyword opportunities and planning each content strategy
SEO Analytics and Reporting
Toward the end of the SEO journey, we will shed light on the importance of SEO analytics and reporting
Using the right tools to track and analyze the performance of your website will help you address million-dollar questions like:
Which pages are the most visited
What channel is attracting the most traffic
What is the click-through rate of pages in search results
What keywords do you rank for in Google
What are your most visited pages
Your visitors belong to which demographic
Once the tools have played their part, you will get access to the performance report
The performance report will be the report card of the site's performance in Google Search.
It consists of 3 main areas you can organize to access the data you need:
Top filter – Select the search type, and date range and filter the dimensions
Metrics Chart – Presents chart with 4 main metrics (clicks, impressions, average CTR, and average position); you have the option to select any combination of the metrics by clicking them
Dimension tabs with data table – allow you to select the preferred dimension and see the data in a simple table
Becoming an SEO Expert
Becoming an SEO expert opens the door to a wide array of job opportunities on both a full-time and freelance level. And you can find the best employers who will help you hone your SEO skills at Jobsbuster. However, to hone the best out of SEO, there are some critical factors that one has to keep in mind. Let's understand some of them.
Content that is Contagious
You need to first identify what people are looking for and create quality content that meets their needs
Websites that Welcomes Crawlers
No marks for stating the obvious but your website must be easy to find by search engines
Quality and Quantity of Links
The more quality pages are linked to your website, the more authority you will have in front of Google
Content Created for Target Audience
SEO is not just about using the right words. It is also about the type of content created and its comprehensiveness. Google loves it when the reader of the article is happy.
Exclusive Content
Never ever create duplicate content on your website
EAT: Expertise, Authority, Trust
The E-A-T signals are evaluated by Google's Quality Raters – always remember to build and prove your expertise and dependability, and write only about topics that you understand best.
New Content
Certain topics demand more freshness than others, however, it is important to constantly update content and keep it updated.
Click-through Rate
Optimize your title tags and meta descriptions to bring up the CTR of your pages
Website Speed
Ensure that the website pages load quickly, else visitors will leave your page even before they have a chance to visit it
Compatibility
Your website should work seamlessly on any device and screen size
Read Also: A Step-By-Step Guide to Become a Software Developer in 2023
Final words
There you have it. As we navigate our way through 2023, it is safe to say that SEO remains a cornerstone of online success. With ever-developing algorithms, technologies, and updating trends, staying informed and being adaptable will make all the difference. By constantly grooming yourself with best SEO practices, you will not only improve your website visibility but also your own visibility by making lasting connections with your audience, ensuring that your expertise will help them have a dynamic year ahead
Posted in: Candidates
Tags: Backlinks , Black Hat SEO , Content Optimization , Content Quality , Crawling , digital marketing , E-A-T Signals , Google Search , Indexing , Keyword Research , Link Building , Off-page SEO , On-page SEO , online presence , Search Engine Optimization , SEO , SEO Analytics , SEO Career , SEO Components , SEO Expert , SEO Lingo , SEO Reporting , SEO Strategy , SEO Techniques , SEO Tools , SEO Trends , SERP , User Experience , Website Performance , Website Visibility , White Hat SEO