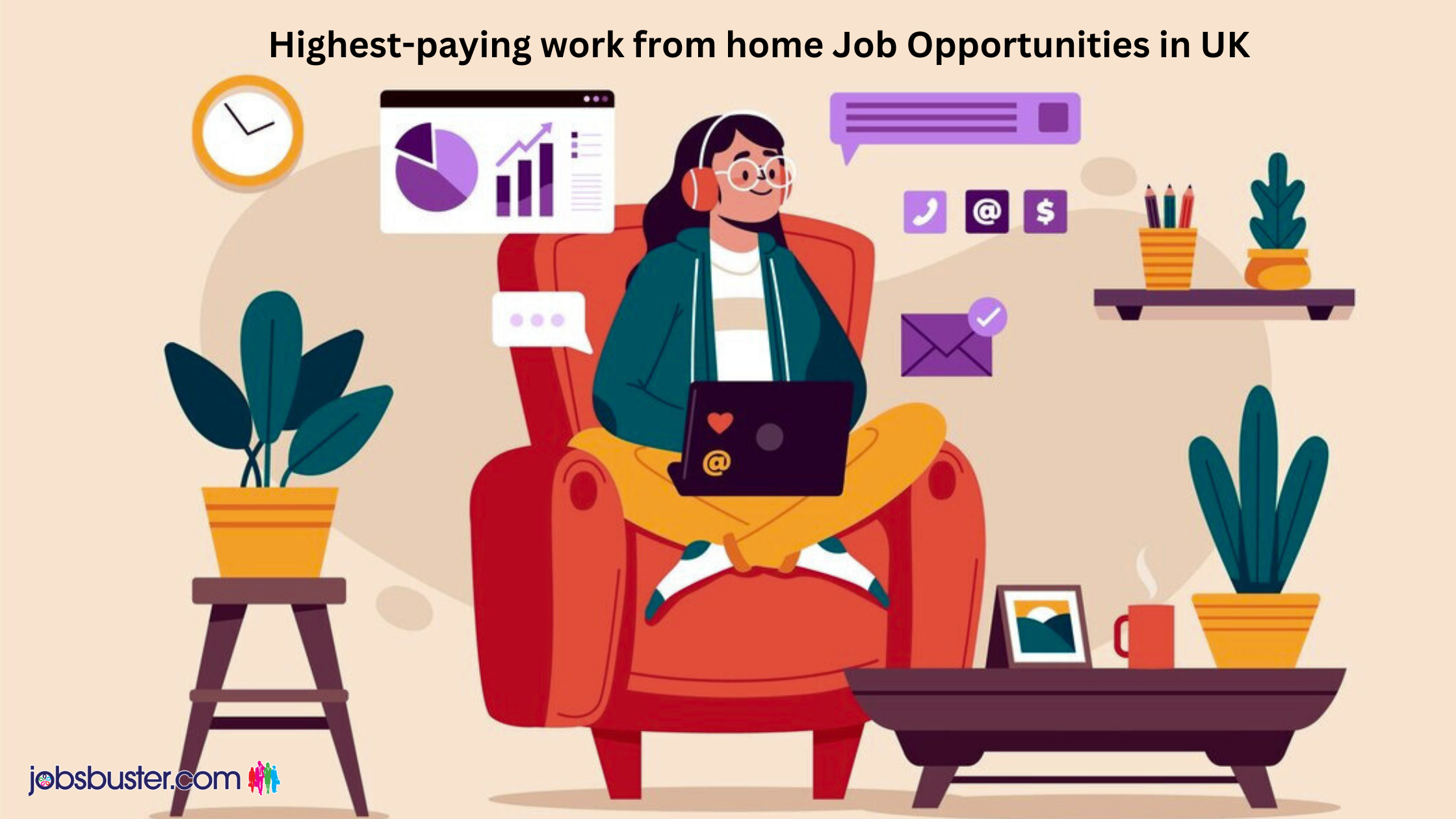 Work from home, or I would lovingly call it WFH is a terminology that has been a part of every conversation, every day, everywhere. This one simple term can be seen as the modern-day Moses who split the Red Sea. And in this case, the Split Red Sea is the working population that either advocates or chastises WFH.
Now this article is for those folks looking for UK jobs and those who have fallen in love with their comfort zone and have gotten used to not yelling at fellow humans while on their way to work. You might be thinking of working from home for more than one reason. It is a proven fact that working from home affords you more flexibility, the freedom to pursue other passions, and spending more time with near and dear ones while maintaining a regular income flow.
A survey conducted by ONS on the job market UK claims that 40% of Brits are capable of functioning from home with complete efficiency. Also, Randstad's latest Workmonitor research stated that 72% think flexibility in offices is of prime importance when looking for a new job, and close to 44% weren't even ready to accept a job that doesn't offer flexibility when it comes to its physical location.
For years, we were functioning under the illusion that higher salaries could only be earned by working in cities. However, thanks to technological advancements and flexible working styles offered by most of the employers, it is totally possible for you to earn a good salary by working from home
Having said that, let's explore some work-from-home jobs in UK that you can choose according to the strength that is at your disposal.
Senior Product Manager
The major role of a product manager is to liaise with stakeholders and management. To give you an example, senior product managers will lay down the vision of a specific product by figuring out the problems that the product will solve along with the target audience. Another key role that a senior product manager plays is that of supporting the design team and helping them deliver the highest value by reviewing product specs and participating in testing.
Software Developer
Software developers are the brains behind computer programs and software applications. This role is considered a highly rewarding role, both financially and mentally. It is the right career option for folks who very early on in life were fascinated with puzzle-solving and have a strong technical aptitude. This specific role expects you to build programs from ground zero or surveil the team in charge of creating the applications. Software developers team up with computer engineers and programmers to give birth to complex and functional systems that live up to customers' expectations or help improve the efficiency of a company.
Business Development Manager
The main role of BDM is to coordinate with people inside and outside of the organization to bring in new business opportunities. The job of a business development manager is to come up with proposals for new clients and build long-term associations with organization's existing customers.
As a faction of the marketing team, the BDM takes responsibility for building sales leads, pitching to new clients, and building a company's client list. The ultimate goal of BDM is to convince potential clients to become customers and nurture them throughout their business journey.
Those who wish to take up this role, can take their first step by getting a degree in relevant subjects like business management, marketing, business development, or international relations.
Quantity Surveyor
Quantity surveyors are specialists in figuring out the costs of construction and contracts, and their job responsibilities range from figuring out the cost of a project, anticipating the risk, and offering contractual advice, to completely handling the project. Quantity Surveyors team up with architects and designers to figure out the price of a design and also with project managers to ensure that the project stays within the budget. As the major role of QS is to keep communication alive, it can be done from home. However, timely site visits will need to be carried out to make sure that the project is moving ahead.
Senior Compliance Manager
The basic responsibilities of a Senior Compliance Manager are to ensure that an organization, its employees, the projects, and all activities adhere to all relevant specifications and regulations. It can entail health and safety, legal or quality standards, environmental along any ethical policies. A compliance manager should know all the legal guidelines and best practices associated with corporate governance and must be a thorough professional with unquestionable ethical standards, working solely to complete their job and aligning themselves with the objectives of the business. The key responsibilities of a compliance manager include offering timely and accurate suggestions and overlooking the delivery of compliance monitoring.
Recruiters
Recruiters are the ones who will be calling the shots when it comes to giving you the dream work-from-home job. As recruiters are constantly on the lookout for fresh talent, they are usually traveling to university campuses and setting up job fairs. As a recruiter's primary job is to communicate with potential employees, it is a job that can be done from anywhere, and when we say anywhere, we primarily mean from the comfort of one's home.
Graphic Designer
Graphic designers do their magic with the help of computer software or by hand to give birth to visual concepts that explain ideas to the end users. They offer organizations their visual brand, working on a wide range of deliverables from posters to websites.
A lot of agencies and media houses rely on freelance graphic designers to get their job done. So if you are a graphic designer, It is the best time to look for remote job opportunities and set up a cozy workspace near the window in your house.
 Virtual Assistant
A virtual assistant is no different from a personal assistant, with the only difference being that they work from home on a self-employed basis. The tasks handled by a virtual assistant can range from managing email and social media to organizing events and bookkeeping. So if you are someone with strong organizational skills, you should totally market yourself. If you simply do a jobs near me search, you will find a lot of job opportunities posted online, especially on job portals like jobsbuster.com. Don't wait. Start searching jobsbuster jobs today.
Customer Service Representative
Customer service representatives are the ones responsible for taking calls from customers, offering information, processing orders, and handling complaints. While most of the customer service representatives function out of call centers, slowly but steadily these roles are filled by remote workers. s
To become a customer service representative, you would need to be excellent with your computer skills and also have exceptional communication skills.
Online Teachers
The concept of online teaching has taken the world by storm. Thanks to software like Skype, teachers these days can reach children around the world.
There is a wide demand for tutors in core subjects like Science, Maths, and English, along with people who can teach English as a foreign language. Online teachers get paid well, and when you align it with the work-from-home privilege, you get to connect with students from different time zones.
Travel Agent
The internet has reinvented the travel industry, which has made it potentially profitable for people who want to make a career in this industry working from home. Travel agents are known for their ability to give the best advice on destinations and take care of arranging everything from passports to entertainment. People who have a niche like luxury travel and who cater to wealthy clients can make a fortune out of this career.
work-from-home tips
Now as we have listed down the best jobs you can choose to make a living working from home, let's look at some of the work-from-home tips that will come very handy.
Create a proper environment
Now you would ask what is the point of working from home if I have to create a work environment? But in reality, being extremely comfortable can cost you your focus, productivity, and milestones. Working from home can coop you up in your bed or couch, and because of our troubled sleep schedules, it can become very difficult to focus or even stay awake.
Thus, having a dedicated workspace that replicates an office environment is extremely ideal. Because not losing focus is key to getting the job done.
Install Reliable technology
When working from home ensure the fact that your laptop is up to date with the latest software and you have a strong Wi-Fi connection.
You surely wouldn't want your connection to drop or your laptop to stop functioning when you are giving that important presentation to all the top bosses.
Read Also: 10 Essential Skills You Must Have to Become a Data Analyst
Set a Routine
If you are someone who burns the midnight oil, then waking up early is going to be a task. If you don't get enough sleep on a daily basis, you can get tired and feel agitated which can reflect poorly on your work.
So, it is best to have a morning routine that goes like
Waking up an hour before your work hour
Get refreshed
Rejuvenate with tea/coffee
Put a yoga mat on the floor
Sit with your legs crossed
Keep your backbone erect
Shut your eyes
Meditate for 10-15 minutes
That's it. You are good to take over the world.
Posted in: Candidates
Tags: Business Development Manager , create a proper environment , Customer Service Representative , flexibility in offices , Graphic Designer , higher salaries , job market , Online Teachers , Quantity Surveyor , Recruiters , reliable technology , remote work , Senior Compliance Manager , Senior Product Manager , set a routine , software developer , Travel Agent , UK jobs , virtual assistant , WFH , work from home , Work From Home Tips , work-from-home jobs