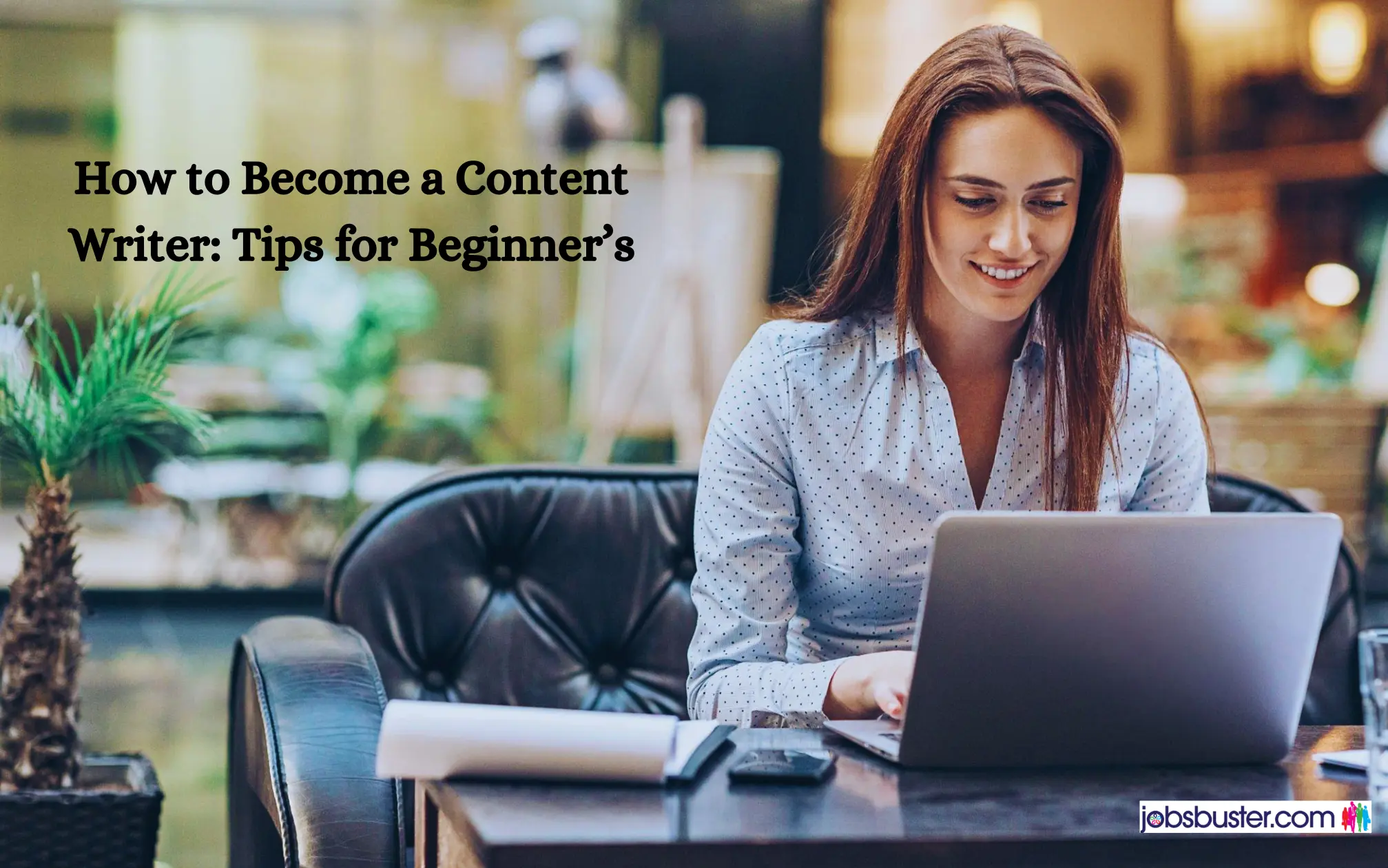 "Write so that people can hear it and slide it through the brain and goes straight to the heart," this is one of the most inspiring lines by Maya Angelou about writing. Content writing is a tricky skill to learn, and it is definitely not everyone's cup of coffee. If you are passionate about writing and if you want to pursue your passion in writing, then this is the right choice for you. If you want to qualify as a content writer then you need to read, read and read then write, write more and write. In this Jobsbuster blog post, we are going to discuss various tips and tricks dedicated to someone who is beginning a fresh start in content writing.
What is Content and Content Writing?
Before we discuss more about content writing we need to understand what content is. Content can be described as a sort of information that educates, informs, entertains, motivates, and inspires a group of people.
Now let's move to the main part. What is content writing? Content writing can be described as the process of creating content for any sort of media. It is used for a variety of purposes. They include marketing, education, entertainment, etc. Content writers should be able to research topics and they should also be able to write in a clear precise manner.
Content writers can work in a variety of settings. They include in-house business, as freelancers, or as a part of the content writing agency. The job outlook of content writers is growing rapidly these years. Most companies recognize the role of content writing and how content writing can be used as a tool to grow their business. Content writing helps with targeting their audience with high-quality content.
Types of Content Writing
Many types of content writing are there. Let's dive deep into types of content writing.
1.Blog writing
Blog writing is one of the important forms of writing. Here blog writers mainly write complicated topics into friendly blogs. These blog writers mainly fetch information and resources that will improve the blog materials. Blog writers spend days on a single article to make it error-free and engaging.
2.Brand Journalist
A brand journalist is someone who portrays your brand story to the public. They portray your brand name in a positive highlight furnishing all the positive sides of the company. They understand the value and reputation of the company, and to maintain that value they always double-check the content that is being published on the site.
3.Copywriter
Copywriters are the ones who are responsible for producing quality content. They are the ones who speak for their company and their customers. Copywriters create their crafts more systematically, which in the end will be useful to both the company and the customers.
4.Technical writing
A technical writer is an expert in writing technical content. They make content available to everyone. Technical writing means any technical information. Technical writers always need to have good writing skills because they must deliver more complex ideas to the audience. Technical writers are used to convey information about any specialized topic.
5.Social Media Writer
This writing can be considered as the brand's loudest voice. Social media writers are the ones who optimize content in social media. This type of writing helps to reach the contents to a large group of audience. Writing for social media can be considered one of the most rewarding types of content writing.
6.Script Writing
Scriptwriting can be considered a freelance profession. There is no hard and fast rule about the educational qualification of a scriptwriter. Only talent and imagination are needed here.
Skills Required for a Content Writer
To become a successful content writer, you need to have various skills. Let us discuss various skills for a content writer.
1.Adapting to situation
A good content writer should be able to understand that each client has different needs, and they need to work according to that. When you are starting to write, you need to focus on writing in an appropriate tone and voice. First, you need to clearly understand your target audience. Only that way can you promote your writing.
This means that you need to create your content in a way that you can engage your audience and promote your work that way.
2.Managing time
We shouldn't have to overly discuss this part. We all know what time management is. A good content writer should be able to manage their time and schedule accordingly. In that way, they'll be able to finish their work on time and they won't feel stressed and burnout.
Although many writers work as freelancers, there wouldn't be any excuses for the timely submission of their works. Whatever happens, they need to focus on completing their tasks on time.
3.Vocabulary and Grammar
It wouldn't be that cool if the content looked more like it was written by your 10-year-old nephew. Your content should be more engaging, and it should be free from grammatical errors. A great writer should be able to make their content look flawless. This will make your content more engaging and of a high standard.
4.Research Skill
A good content writer should be a good researcher. You can understand that there are many budding writers in the field. Most of them are well-versed in research skills. If you don't have this research skill, then you can start mastering this skill right now. You won't be able to master research skills in one day or two. This will be made possible if you start doing research now. You need to focus on breaking down complex ideas and break it down to your audience for better understanding.
5.SEO Content writing
It doesn't matter if you have the best content in the world, if nobody reads your content that is of no use. This is why content writers are trained to use tools such as Search Engine Optimization to make sure that your website ranks first on Google.
In this way when the audience lands on your page your content strategy should convince them that it is worthwhile to stick around your site.
6.Editing
A content writer should never submit their first article on the go. Even though you have confidence in your skills and talent, you need to take time and edit your work without fail. We don't want any mistakes in our writing. You need to read and re-read your writings. You must make your content error-free, which means you should check grammar, spelling, and vocabulary.
Steps to Become a Content Writer
If you are a beginner and want to pursue a career in content writing, then these are a few tips to follow.
Getting a graduate degree
A bachelor's degree is a must if you are looking for a secure job position in the content writing field. Degrees include a BA in English language and literature, Journalism, or Mass media is preferred.
Developing Your content writing skills
Developing your content writing is a must if you are trying to build your content writing career in content writing. To develop your content writing skills, you need to focus on improving your grammar, vocabulary, and reading comprehension.
Getting done with formal content writing training
If you don't have any prior knowledge of content writing, you need to get it done with training. Taking a content course will help you better understand the knowledge of
Writing, formatting editing blogs
Brand storytelling
Creating content for social media
Learning the basis of digital marketing 
Digital marketing is important if you are looking forward to commercializing your business. Learning about SEO is the best thing that you could ever do if you want to be a successful content writer. Digital marketing is gaining importance day by day.
In order to get into a good position in the content writing field you should furnish your published work in the form of a portfolio. Portfolios are basically the collection of the work that you have done in order to get a positive outlook during the process of selection for interviews and all.
The final step to becoming a content writer is applying for jobs. As we have discussed content writers can work as freelancers, but if you want to get a permanent position as a content writer you need to apply for content writer Jobs. You can apply for Jobs on websites such as Jobsbusters or any other platforms to get noticed by the recruiters.
Read Also:  Ideal Roadmap on How to Become a Software Developer
Conclusion
Content writing can be considered as both art and science. Because, in content writing, we are doing technical writing too. Content writing is often misunderstood as creative writing. But the thing is content writing is more like utility than creativity. If you understand the science behind writing, then you could easily crack the creative part.
We hope you found this blog post helpful and have a better understanding of How to become a successful content writer.  Here we have discussed various steps and requirements to become a good content writer.
If you have any questions or queries, feel free to post below. Our team will get back to you soon.
Posted in: Candidates
Tags: adapting to situations , applying for content writing jobs , art and science of content writing , becoming a successful content writer , blog writing , brand journalist , building portfolio , conclusion , content , Content creation , content curation , content marketing , content writer , content writing , content writing blog post , content writing jobs , content writing skills , copywriter , digital marketing basics , editing , formal content writing training , graduate degree , Job search , jobsbuster , Maya Angelou quote , pursuing passion in writing , research skills , script writing , SEO content writing , skills for content writer , social media writer , steps to become a content writer , technical writing , Time Management , tips for content writing , types of content writing , vocabulary and grammar , what is content writing , writing inspiration