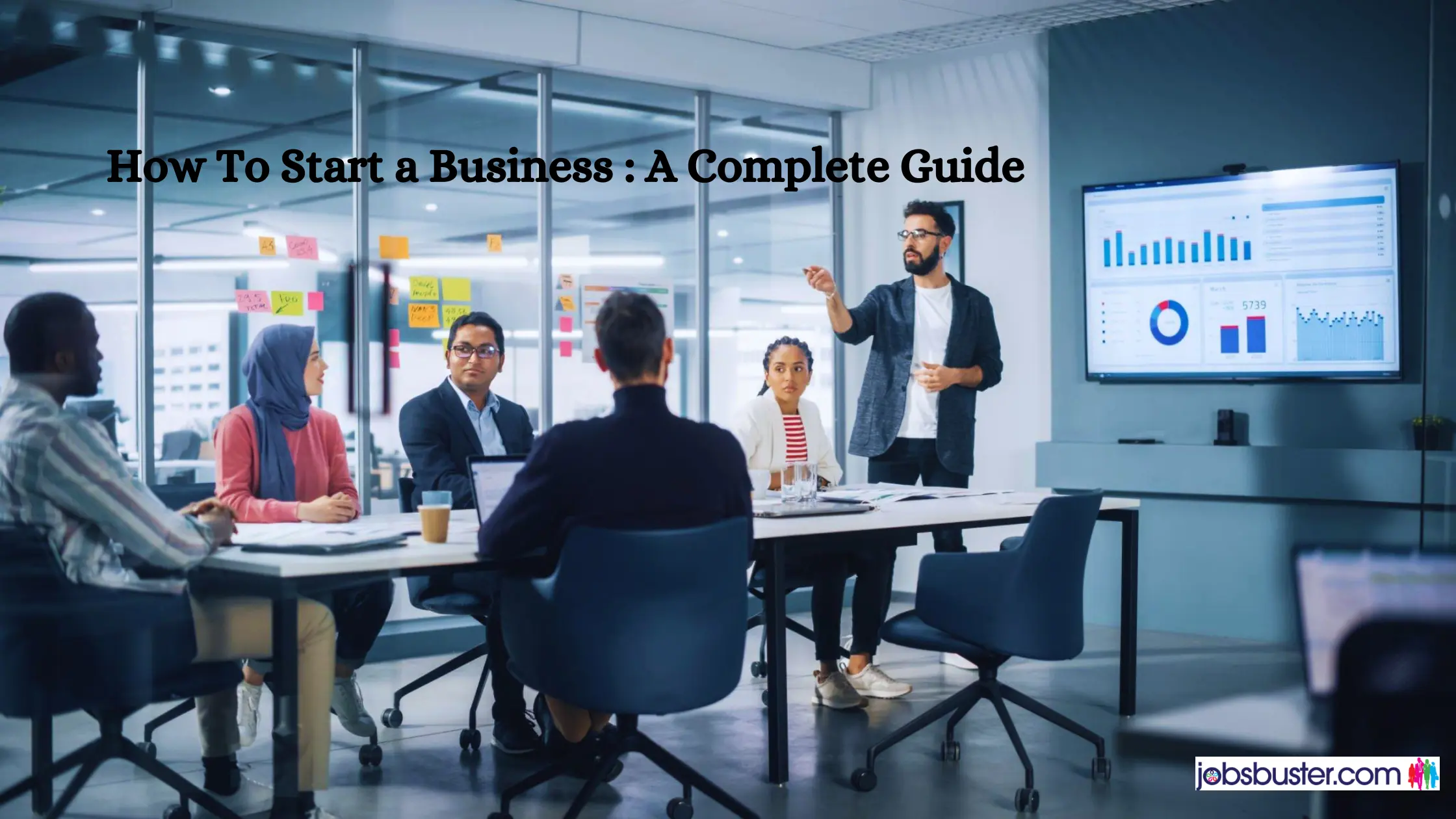 This is the 21st century and business is getting a lot of hype. Especially business startups. Creating a successful business from the start can be tough but rewarding. But the hard question is, where to begin? The term starting a business sounds easy, but it can be considered as one of the trickier jobs in the world. Sometimes you can break a leg. But it is not necessary that it can happen to everyone. Starting a business has two parts: idea generation and execution. This is what tricks most entrepreneurs. Most people do not know how to start a business. So, in this Jobsbuster article, we are going to discuss how to start a business successfully and a few tips and tricks to achieve your goal. Let us dive deep into the topic.
What is a business?
We can describe a business as an enterprising entity that engages in professional, commercial, or industrial activities. Depending on various factors there are many different types of business are there. Some of them can be profit-oriented while some of them are non-profit-oriented. It is related to the wants and intentions of the person who is starting the business. Likewise, ownership also can be of different types. They are different from each other. We will discuss them in detail. Business can be considered as the good intention, effort, and activities of an individual or a group of individuals to bring good profit to the organization.
Why You Should Start a Business?
Starting a business can be really good for lots of reasons. It lets you do what you love and make something important. You can learn new things and get better at leading, making choices, and solving problems. You can choose when to work and do things that matter to you. Also, having a business might mean you become financially independent and have money saved up, which can make you feel safe. Plus, you can help your community by giving people job opportunities and making things that help everyone.
Types of Business
Before starting a business one needs to understand the various types of business flourishing lately. Each of them has a different structure formed to produce various results. There are four major types of business are there. Before starting a business, entrepreneurs should understand what type of business they want to do. And should create a good structure to produce maximum outcomes.
Sole Proprietorship
This type of business is owned by only one person, and they do not need to ask for permission from the partner or any board to make any necessary changes. The owner is the sole individual who makes necessary changes in the structure and the schedule of the business. So, they have the right to decide what to do with the business profits.
Partnership
A partnership can be defined as a business involving two people handling a business. This means two people have the right to control the business. The joint owners run the day-to-day activities by themselves or with the help of the appointed representatives. So, in the partnership agreement, the co-owners sign the rights, shares, and responsibilities.
Partnerships can also be of different types.
Limited Liability Partnership
In a limited liability partnership, some or all the individuals have limited liabilities. Having a business partner means having great risk in hand. So here limited liability means if the partnership or the business fails the creditors cannot take the individual's assets. These types of partnerships are present in professional businesses like law firms, accounting firms, medical firms, etc.
Unlimited Liability Partnership
In an unlimited liability partnership, the business owners and the partners should take full legal responsibility for the debts and transactions of the business. So, both partners will be equally responsible for the transactions that will be happening in the business fields. The co-owner's wealth can be seized to cover the balance owed.
Limited Liability Company
In a limited liability company, the owner's possessions like cars, bikes, houses, and personal records can be taken by the credit holders. If you are going to start a company this one is the best choice for you. This type of business can be good for small business owners. However, there will be challenges to making capital for these types of businesses. If you are good to go, then this is your cup of coffee.
Private corporations
In this type of business, individuals form a group to manage a business. Here, in this type of business, the assets and liabilities of the owners are separated. If they lose a business the amount they initially credited would only be lost, nothing else from their assets will be taken. The individuals who are interested in starting a private corporation should submit the documents called the articles of incorporation. Private corporations allow individuals to buy stocks from their companies. This will allow the capital to grow, which in turn is beneficial for the company.
Cooperative
A cooperative enterprise is a kind that is privately owned by the same people who are benefiting from it. The owners of the cooperative, who are also called shareholders, together make decisions. They are involved in the decision-making process. There is no limit to the number of people who should be on the shareholder's list. Having a lot of shareholders means having a great asset.
Non-profit Corporation
A non-profit corporation is built to serve or benefit a community or provide social service. So, if someone wants to run this type of organization, they must prove that this organization will bring benefit to the community. Only then will the government allow them to start a non-profit organization. These types of organizations are charitable organizations. They would be in the fields of science, criminal justice, education, and humanitarian affairs.
Benefit Corporation
Benefit corporations are sometimes called B corporation. It is made to benefit the public while also making a profit. There are two types of B Corp organizations. Both benefit organizations and certified corps are required to consider the impact on their workers, customers, suppliers, community, and the environment.
Close Corporations
A close corporation is also called a privately held company. A private company or a family corporation, is a business whose ownership consists of a limited number of shareholders. But they have a close connection in the business. Owners of these types of organizations cannot offer their share to the public. They can only share their shares with their co-owners.
C Corporation
A C corporation is a publicly held corporation that can have any number of shareholders. Many companies can the termed under the title. They are used for income tax purposes. The shareholders in the c corporations pay taxes separately from the business. They have double taxation at the corporate and personal levels.
S Corporations
An S corporation is a company that files taxes under Internal Revenue Service (IRS) Subchapter S. This tax filing status allows corporations to avoid double taxation by passing their corporate income and losses along to shareholders. To qualify for S corporation status, a company must meet several requirements put forth by the Internal Revenue Service (IRS).
Requirements for starting a business
For starting a business there are various requirements. Let us investigate the major requirements.
A business plan maps out the details of a project. This talks about how the business is structured, talks about your product and services, and how you will be selling it. Creating a business plan can help you with finding the obstacles that are present in the business.
A brand name is an important aspect of a business. It is an essential part of the business. You need to find your brand name before going on to further plans. If your company name is different and unique from the rest, you will be able to register with your company fast. It is a fact that you cannot have any existing names for your company. Because, if your company has a name that originally existed then there is a high chance that you will not be able to register your company name.
When you start a business, it is essential to have a good structure. The business's legal structure shows which things you are liable for and what taxes you must pay. There are many types of business structures. Some of them are sole traders, partnerships, and limited companies. So, in this type of business, you must find the right structure for your company.
Registering your business is an important step in your business advancement. It is the later step of the ownership structure. So, in that way, you will be able to ensure that you are working within the most important work constraints. It is an important step to be covered. Registering your business helps you with taking business loans. A business bank account cannot be created without properly registering your business account.
Checking up with legal requirements
To make your business work properly you must check with the legal authorities. Other than registering your business and checking up with legal requirements there are various important elements to be followed. Acquiring a business permit is one among them. According to industry business permit varies.
Funding is another important aspect of starting a business. If you are working in a small business, funding from your close people would be enough. But if your company is big, you need to apply for funding. Start-up funding is one of the important funding irrespective of the field that you are working on.
Creating a brand identity
If you have completed all the previous steps, you can now start to develop a unique brand identity of your own. Brand identity is the collection of all the elements that a company targets to portray to its audience.
Starting a business step by step
Let us investigate the steps for starting a business:
Make a Detailed Business Plan: Create a detailed plan that talks about what you want to sell, how you'll sell it, and any problems you might face. This will help you know your goals.
Pick a Special Brand Name: Choose a unique and easy-to-remember name for your business. This name will help people recognize and remember your business.
Decide on the Legal Stuff: Understand the different types of businesses and how they affect what you're responsible for and what taxes you need to pay. Pick the one that matches your business goals before you make your business official.
Register Your Business: Finish all the paperwork needed to make your business legal. Make sure you follow all the rules and laws for your business to run smoothly.
Follow the Rules: Talk to legal experts to make sure everything you do follows the rules and laws. Doing things the right way is important for your business to work well.
Get Enough Money: Find enough money to start your business. No matter what you're doing, having enough money at the beginning is really important for your business to do well.
Create a Strong Brand Image: Build a unique and strong image for your business that your customers will like. Make sure it shows what your business stands for.
Make a Good Team: Find and hire people who share the same ideas as your business. Finding the right people is important for making your business a good place to work.
Make a Great Place to Work: Make a workspace that makes your employees happy and helps them work better. Think about different designs that encourage creativity and working together.
Plan a Big Start: Make a plan to start your business in a way that gets people excited. A good start can bring in new customers and make your business strong.
Read Also : Work from Home: Your Ultimate Guide to Increase Productivity
Final Thoughts
In conclusion, starting a new journey with business can be a tough but rewarding experience. This blog post provides you with various steps to be followed to start a journey in business. These are the essential steps to be checked if you want to know whether you are going on the right path. While the world's entrepreneurship is daunting you need to understand that all the businesspeople were started as a beginner. So, the only thing you must do is trust yourself. The world of business is in your hands, go out there and make it happen.
Posted in: Candidates Employers
Tags: Benefit Corporation , brand identity , brand name , business , business guide , business plan , business registration , business requirements , business startups , business structure , business types , C Corporation , Close Corporations , Cooperative , Detailed Business Plan , entrepreneurs , entrepreneurship , execution , Follow the Rules , funding , Get Enough Money , Good Team , Great Place to Work , idea generation , Increase Productivity , job opportunities , jobsbuster , legal requirements , Legal Stuff , Limited Liability Company , Limited Liability Partnership , Non-profit Corporation , non-profit-oriented , Partnership , Plan a Big Start , Private corporations , profit-oriented , Register Your Business , S Corporations , Sole Proprietorship , Special Brand Name , starting a business , starting a new journey , steps for starting a business , Strong Brand Image , successful business , Unlimited Liability Partnership , work from home