B&Q is Europe's number one Home Improvement Retailer, and the third largest in the World.
We are committed to equal opportunities in employment and value the diversity of the people within our organisation. We aim to create a positive workplace where people feel comfortable to be themselves and everyone is treated with fairness, dignity and respect. B&Q values the differences people bring to our business and we enable our employees to reach their full potential for the benefit of themselves and the company. For us, it is all about treating people as individuals and valuing difference.
B&Q is committed to the full use of talent and resources and we have an environment that encourages good and productive relationships and promotes business innovation. Our aim is to eliminate all forms of discrimination and ensure equality of opportunity in employment.
B&Q is a truly multinational, multicultural Company with around 39,000 employees working in over 330 stores here in the UK and we source over 40,000 products from over 60 countries.
This means that we have a significant impact on local communities around the world. B&Q and parent company Kingfisher have stores in 11 countries including France, Germany, Turkey, Poland, China and Taiwan. Understanding and respecting how these different cultures operate is crucial to the success of B&Q.
B&Q have over 1,200 staff that speaks more than one language, with over 60 different languages spoken, from Afrikaans to Zulu.
Case Studies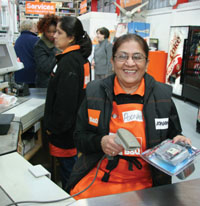 Poonam Bhavnani – Customer Advisor at Ilford store – Age 65
After her children went to school, Poonam joined the team at B&Q Ilford and has worked there ever since as a part time checkout operator. She is now a grandmother and has recently reduced her hours to two days a week so that she can now look after her grandchildren.
Poonam continues to enjoy working for B&Q.
"I like meeting and talking to customers, I also enjoy working within a team environment and the change to our refitted store in 2004 with the new Epos till system has been a great experience learning modern technology and seeing the change of the old store to the new. Working alongside many extra team members has kept me feeling young and happy to be part of a quality team delivering great customer service at our store"
Anil-BnQAnil Bose – Staff Costs Accounts Assistant – Age 22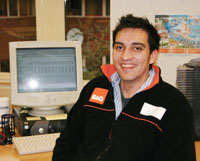 I originally joined B&Q as a temp in the Retail Finance department last year and then became the Staff Costs Accounts Assistant permanently a month later.I have recently just completed a Masters degree in Finance and Accounting and am now enrolled to do a CIMA qualification with the help of B&Q.
I am extremely ambitious and determined to focus on my career, and that's why I'm looking to progress a long way with B&Q.
More Information
For further information on diversity @ B&Q go to: www.diy.com/diversity
For further job information and to apply online go to: www.jobs.diy.com/jobs/