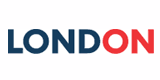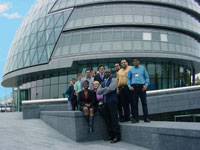 Greater London AuthorityThe GLA. The Mayor. The London Assembly. Together we form the capital's very own strategic citywide government.Joining us means coming to the very heart of change.
It means being at the centre of developments that make this city one of the most exciting on the planet.
Have you got what it takes to develop with us?
About us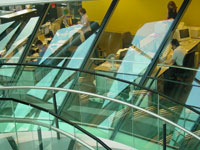 Greater London AuthorityThe GLA's primary purpose is to continually improve London as a place to live, work and visit.Our government is made up of a directly elected Mayor (currently Ken Livingstone) and the separately elected London Assembly. Our strikingly modern headquarters, shown here, is next to Tower Bridge on the south bank of the Thames.
The Mayor's vision is to develop London as an exemplary sustainable world city through:
strong and diverse economic growth social inclusivity to allow all Londoners to share in London's future success fundamental improvements in environmental management and use of resources.
The aim is to progress London as:
a prosperous city in which all share in the benefits of wealth created in London's dynamic economy a city for people with safe attractive streets, where goods and services are within easy reach, and where everyone feels safe and secure an accessible city with fast, efficient and comfortable means of transport, and access to affordable homes, education and training, health, leisure and recreation a fair city showing tolerance and abolishing all forms of discrimination, where neighbourhoods and communities have a say in their futures a green city making efficient use of natural resources and energy, respecting the natural world and wildlife, using to the full the varied pattern of open space, eco friendly design and constriction methods, recycling waste and creating new green industries.
Working with us
Occupying a unique position at the heart of change in the capital, the GLA is a high profile and pioneering authority to work for.
Over 700 people work for us, mostly at our instantly recognisable City Hall on the South Bank. Our employees take pride in their personal and collective work to assemble and drive large-scale improvements to our city.
Involvement in the 2012 Olympic Games and innovative ideas such as congestion charges set us – and our people – apart from other authorities. Skills vary depending on roles, but generally you need plenty of initiative, strong team working and communication skills, real customer focus and a fresh and progressive outlook.
Areas of work
People mainly work for the GLA to take up challenging roles that help improve Londoners' lives. Whether general or specialist, these are broad enough to provide sufficient opportunities to satisfy most interests and careers. Areas of work include:
Planning
Housing
Committee Services
Project and Performance Management
Policy Development and Support
Economics
Research and Analysis
Information and Communications Technology
Financial and Legal Services
Environment
Culture
Marketing and Design
Facilities Management
Business Support and Administration
Human Resources
Press and Media
Events
Leading London's equalities agenda
London is home to seven million people. Between them they speak a total of three hundred languages. Our aim is to represent such cultural diversity by ensuring that those who work for us are truly representative of today's Londoners.
We have therefore set ourselves these workforce targets
51% female
25% black, Asian and ethnic communities
13% with a disability.
Within these we have set ourselves an additional specific workforce target of 12% from the Asian community. We are particularly keen to receive applications from Asian people and disabled people as both these groups are currently under-represented.
Please note that targets are for all levels of our workforce, and we positively encourage applications from these groups.
Work and lifestyle benefits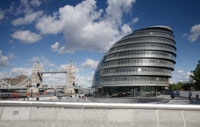 Greater London AuthorityThe GLA offers working conditions and benefits comparable with the best in London. We offer competitive salaries – including annual salary increases – and make generous pension provisions.
Our performance review scheme is designed to help you carry out duties to the best of your ability, and to develop your careers in order to reach your full potential. We support this scheme with excellent learning and development programmes.
Other benefits include annual leave (30 days a year pro rata, in addition to statutory public holidays), flexible hours, paid time off to deal with family emergencies, maternity and paternity leave, a childcare costs scheme, interest-free bicycle loans up to £500 and interest-free season ticket loans up to £5,000 a year.
To find out more about our
current vacancies, please visit
www.london.gov.uk