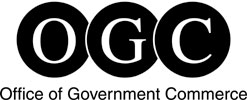 'Working together to make a difference'
Who we are
The Office of Government Commerce is an independent office of HM Treasury with offices in London, Norwich, Leeds and Edinburgh
What we do
OGC works across Whitehall and the wider public sector to help organisations:
achieve efficiency
value for money in commercial activities
improved success in programme and project delivery
What we can offer you
You will get the chance to be involved in some of the highest profile projects in Government and work with some of the brightest people in the industry.
We also offer a competitive rewards and benefits package that suits your lifestyle, including:
flexible working
training and development
enhanced maternity and paternity leave
final salary pension scheme
active secondment programme to other parts of Government and industry
What we ask from you
In return we want people who are keen to work in a busy and demanding environment with a commitment to continuous change and improvement.
But importantly, we want you to make the most of your intellect, your creativity and enthusiasm.
Why a diverse workforce is important to us
At OGC we know that diversity matters.
We want people who are representative of the community we serve and can provide advice and successfully challenge other government organisations that provide services to a multi-cultural society.
Diversity therefore goes right to the heart of who we are and what we do.
Government's diversity programme
Launched in November 2005, the Government's 10-point diversity plan sets specific participation targets for:
women
ethnic minorities
disabled people
It will also act as a catalyst for embedding a culture of wider diversity and inclusion across Government.
OGC's commitment to the 10-point plan
As we believe in best practice and role modelling, we have already made good progress:
Summer student internship
A fully updated OGC Equality Policy
Diversity Steering Group chaired by Board level Champion
Staff networks across HM Treasury
Diversity training for all staff
Interested in joining us?
Why not visit our website or get in touch with our HR team: www.ogc.gov.uk