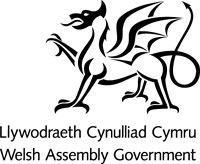 WORKING FOR THE WELSH ASSEMBLY GOVERNMENT
DIFFERENT PEOPLE. SAME VALUES.
Who are the Welsh Assembly Government?
The Welsh Assembly Government is the devolved Government of Wales and we have a clear vision of the country we want to create.
What does the Welsh Assembly Government do?
We are responsible for formulating and delivering policies and programmes for most of the day-to-day concerns of the people of Wales. These include:
•Health
•Education
•Social Justice
•Rural Affairs
•Transport and Economic Development.
What opportunities does the Welsh Assembly Government offer?
If you're not yet decided on a career or are looking for a change of direction, then the Welsh Assembly Government is a great place to start.
We offer a whole range of career opportunities at all levels. So why not visit www.wales.gov.uk/recruitment to find out more.
We have offices right across Wales, so wherever you want to live, the chances are that there's a location that's convenient for you. You don't necessarily need any qualifications to join, and our selection process ensures that we look for evidence of your ability, competence and suitability
for the job.
Benefits of Working for the Welsh Assembly
•A variety of working patterns and flexibility (inc. Part-time,
Flexi-time, Term-time and Compressed hours)
•Generous paid holiday allowance (Excluding Bank Holidays)
•Competitive rates of pay
•A flexible Civil service pension scheme
•Family Friendly Policies (inc. Paid Maternity and Paternity)
.
Training and Development
"Study at the same time as you work"
•A number of unique development opportunities to help you compete for future employment
•Wide range of in-house training and development programmes
•We also provide financial support, at our discretion, for staff to pursue further education and external training opportunities
Case study
My name is Steven Morris and I have been working at the Welsh Assembly Government since August 2007. I am on a 50-week placement as part of the Assembly Government's partnership with Scope's Leadership Recruitment Scheme. I work in the HR Equality and Diversity Team and my role involves working with the Assembly Government's equality staff networks. I am also responsible for submitting the Assembly Government's equality benchmarking submissions.
The last 10 months have been extremely enjoyable for me and also extremely challenging. Before working here, I had never had a job before and I feel like I am learning new skills every day. From the perspective of a disabled member of staff, I believe that the Welsh Assembly Government is an excellent place to work and every effort is made to make reasonable adjustments for individuals who require them. When I started working here, I received accessible software enabling me to use my computer, I received orientation training so that I was familiar with the lay-out of the building and I receive the support of a PA who assists me in work I am unable to do unaided.
All in all, I believe that the skills, knowledge and experience I have picked up while working here have made me feel much more confident in obtaining full time employment after my placement ends in July.
We are an equal opportunities employer and do all we can to promote diversity. We are committed to improving representation of women, people from ethnic minority backgrounds and disabled people at every level of the organisation and encourage applications from all sections of the community so that we can be more representative of the people we serve.
We know that we can all benefit from working alongside people with a variety of backgrounds, who bring with them different experience and new ideas. We are also serious about developing our people and offer excellent personal opportunities in order to make the very best use of your talents.
To find out more about working for the Welsh Assembly Government, visit our website at
www.wales.gov.uk/recruitment